Joint Stamp Issues - News
Archives Quarter 3, 2013


This page is the archived News Page from the July to September 2013 period. All contents have been dispatched in the respective open pages. However there may still be open questions and any complementary information remains welcome. As soon as an information is archived, the text will not be changed anymore. So if news are linked to the below, this information will be displayed as a new heading in the currently open News page.
Back to list of Archived Pages
---
September 29, 2013
Some pictures of the most recently issued stamps:
September 17, 2013: Indonesia issued in panes of [2px5] - South Korea issued in panes of [5x2p] , both se-tenant


September 22, 2013: France - Vietnam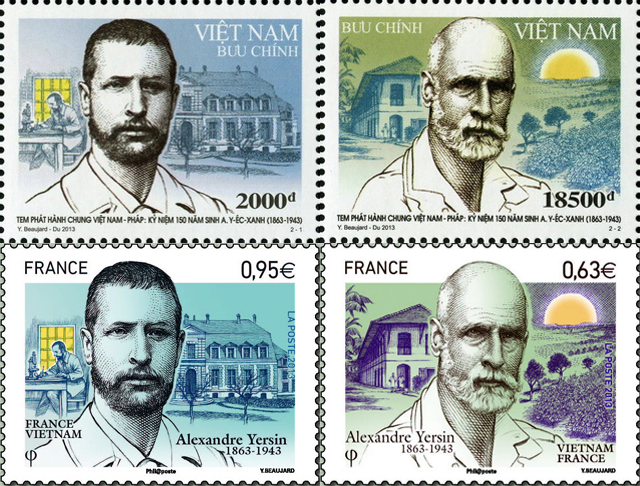 ---
September 29, 2013
Jaap Sarelse (The Netherlands) discovered that Slovakia issued, on top of its standard FDC, a numismatic cover, i.e. a FDC including a special 2€ coin related to the event, at the occasion of the issue of their stamp jointly released with Czech Republic, Bulgaria and Vatican (1150th anniversary of the Arrival of Saint Cyril and St Methodius). This cover was issued on July 5, 2013 while the stamps official first day was June 12, 2013. For those interested, this item is still available on Delcampe.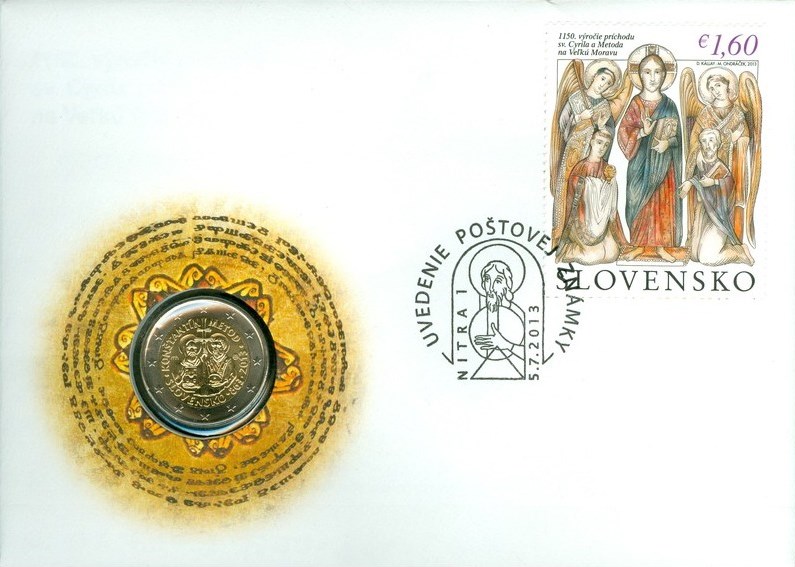 ---
September 29, 2013
From Grzegorz Omelanczuk (Poland):
1. The image of the Spanish sheet to be released on October 28, 2013 is available. The issue will have a parallel character to the Belgian sheet scheduled for release on the same day. Topic is linked to the 150th anniversary of the Red Cross. A text confirming the joint issue character with Belgium is printed on the Spanish stamp, but the Belgium documentation on page 19 of the Belgium Philanews does not make any reference to a joint character. One has to go back to page 10 of ths booklet to discover that there will be a mixed FDC on that occasion.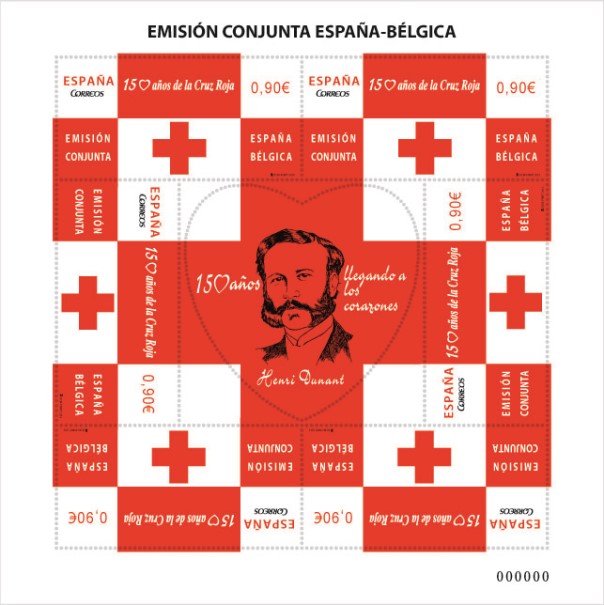 2. On this same page 10 of the Belgian Philanews one discovers also that a mixed card has been produced jointly between Belgium and Aland and dated September 13, 2013. Belgium claims it to be a "common document", but this item is not a joint issue. The butterfly stamp from Aland had been issued already on August 20, 2013 and there is no butterfly stamp issued in Belgium on September 13, 2013. May be some Belgium collectors could provide us with more explanation, as presently no more information is available elsewhere on the net.
3. On October 24, 2013, the Belarus Post will release a souvenir sheet commemorating 20 years of diplomatic relations with Armenia. The stamp in souvenir sheet depicts the national emblems of both countries and the frame shows paintings representative for Armenia and Belarus. There is no confirmation of this issue on the Armenian side but the Belarussian release contains confirmation of the joint character printed on the souvenir sheet margin.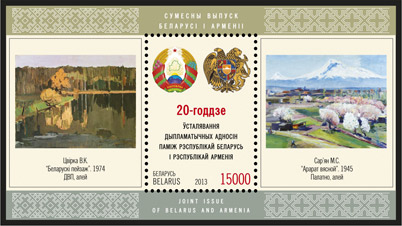 4. The Hong Kong Philatelic program for next year makes reference to a joint issue with Malaysia to be issued on October 9, 2014 with the topic local food.

5. Russia and Austria: There is still some doubt about the participation of Austria to this joint issue (Leipzig battle). The Russia philatelic offices have released the design of the Russian souvenir sheet (see below, to be issued October 16, 2013), but are not anymore speaking about any joint character or link with Austria. Same situation with the joint issue announced between Russia and Monaco that had to be issued on September 20, 2013. This one was postponed again if not more probably cancelled.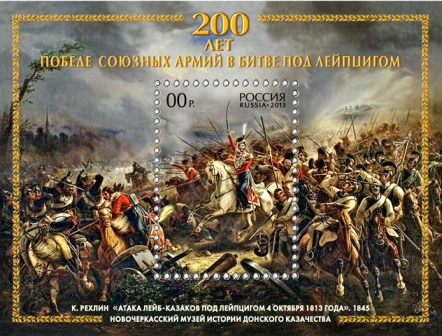 ---
September 29, 2013
Constantine Mengoulis (Greece) found this recent issue involving Aitutaki, Cook Islands and Penrhyn celebrating the birth of the Royal Baby (Prince George) on July 22, 2013. These three Islands are closely connected, but so far we have always reported their issues each time they showed the same topic with at least one stamp with the same design. Such series are categorized as Territorial Twin Issues [TD]. These series was issued on August 1, 2013.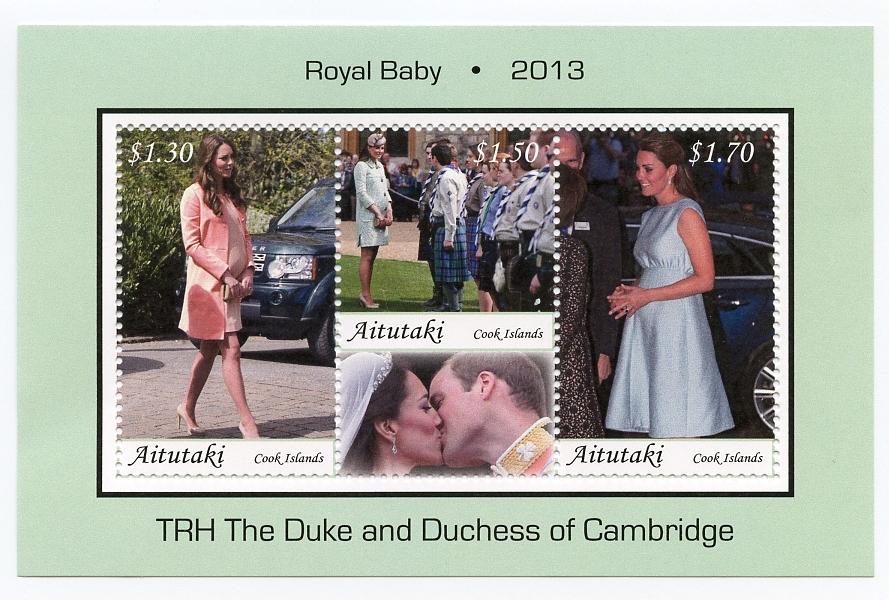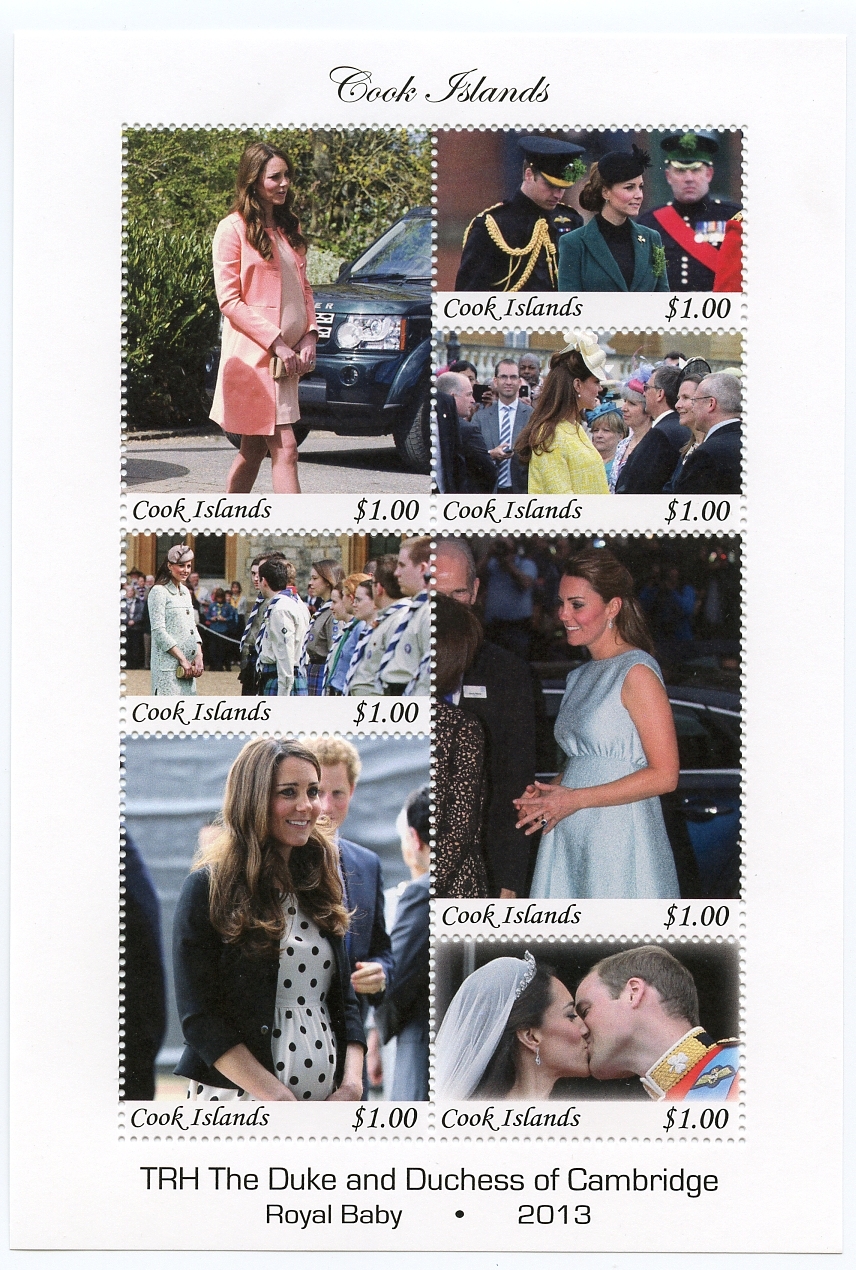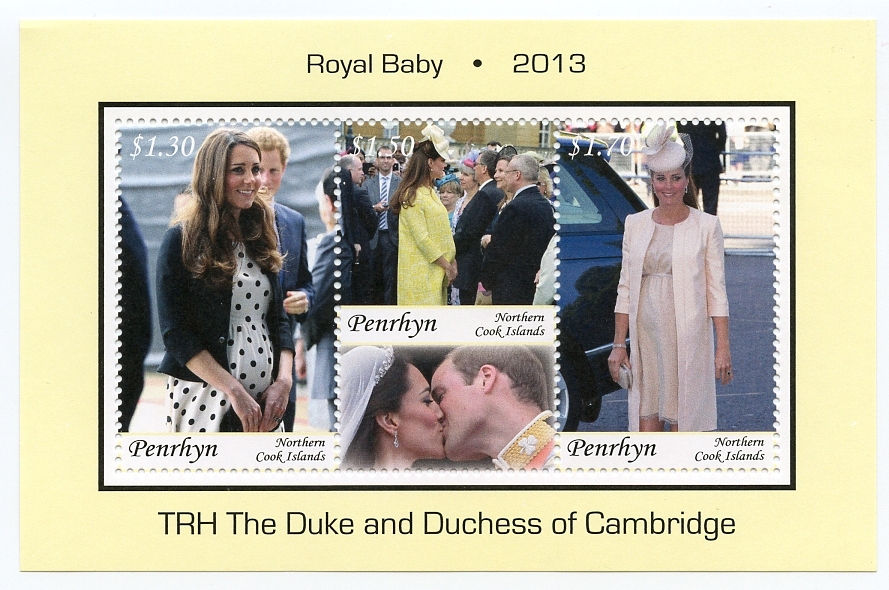 ---
September 29, 2013
Enzo Cafaro (Italy) was able to provide all pictures from Aland related to the joint issue to come on November 8, 2013, between this country and the Vatican State. The products include two stamps, one issued in a miniature sheet with 8 stamps and central label, one issued in a pane containing 30 stamps. A mixed folder will also be available. Vatican stamps will be identical but they have not yet been disclosed.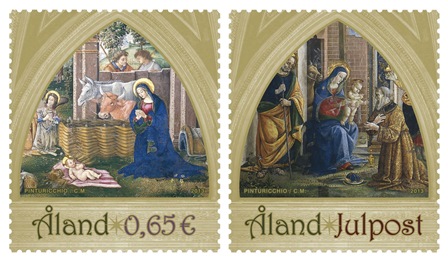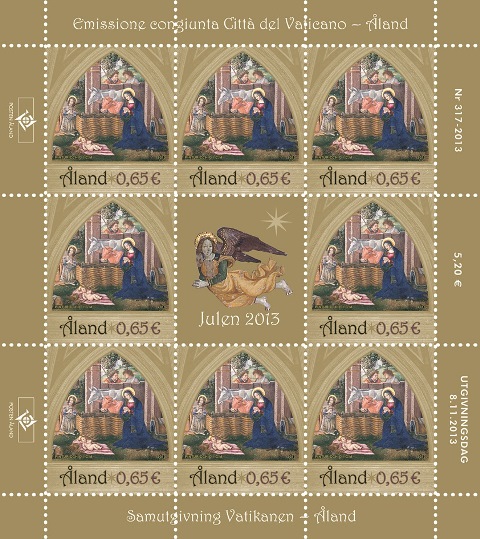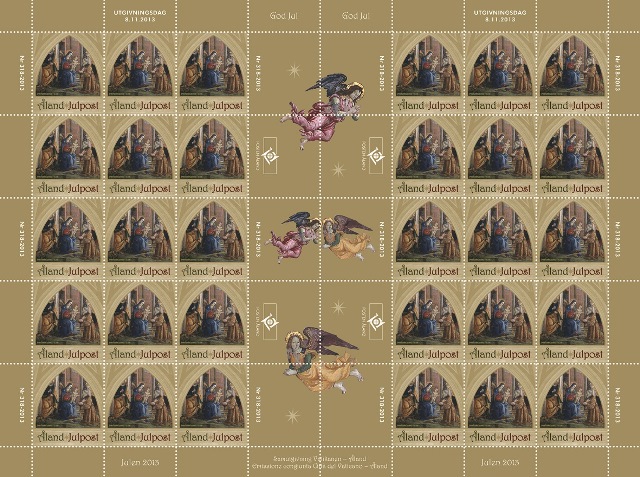 ---
September 29, 2013
The Singapore Vietnam joint stamps have been issued as expected on September 12, 2013. They feature the Red Jungle Fowl (Gallus gallus), ancestor of the domestic chicken and the Grey Peacock Pheasant (Polyplectron bicalcaratum). Singapore has issued the stamps in miniature sheets of 10 stamps and a souvenir sheet. Vietnam has issued stamps in panes. On eBay Vietnamese stamps are also available as imperforate and specimen.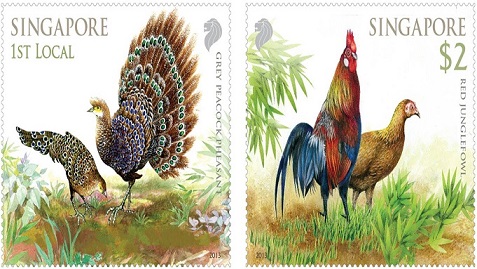 ---
September 9, 2013
Enzo Cafaro (Italy) was able to provide the first image of the Croatian souvenir sheet to be issue on September 18, 2013, together with the Sovereign Military Order of Malta.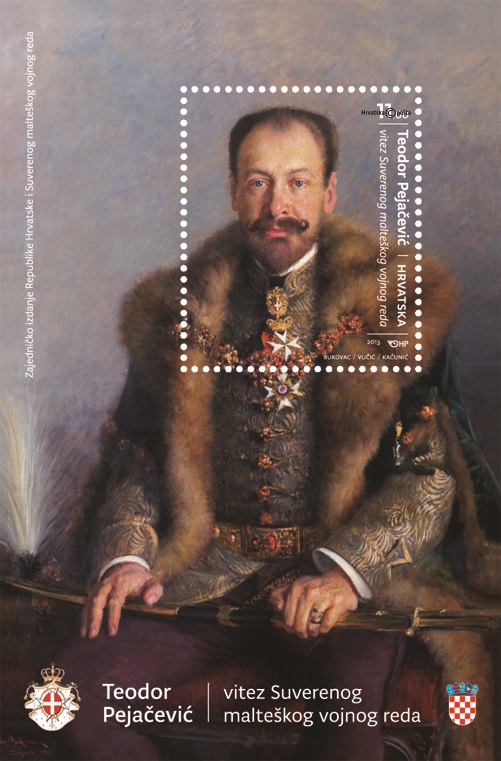 On September 11, 2013, Poland and Romania will issue jointly a stamp depicting folk costumes representative for both countries. Both items will be released in form of souvenir sheets with identical stamps but different margins as shown on the pictures below (information provided by Grzegorz Omelanczuc - Poland and confirmed for Romania by Fabio Bonacina - Italy). Mixed covers with stamps from each country (not souvenir sheets) will be available.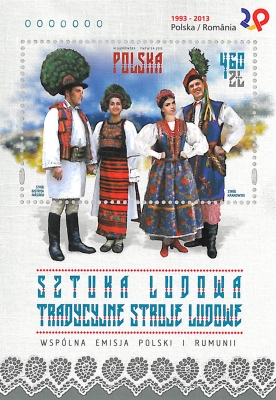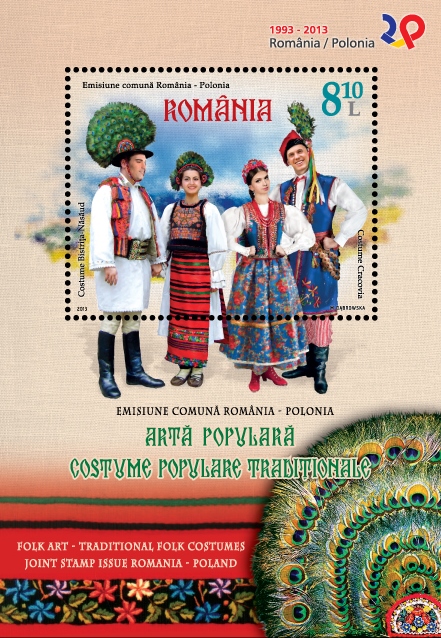 The initially August 22, 2013 planned China - Sweden joint issue about table tennis is postponed to September 27, 2013. Stamps will be identical. Sweden is issuing both stamps in a souvenir sheet.
---
September 8, 2013
Among the newly discovered joint series to come we learned from Igor Mikhaylov (USA) that the Morocco and Ukraine issue planned later this year could show the topic "Ports".
Roland Montagne (France) found also some information claiming that France intends to issue in October 2014 a stamp related to the Sea Turtle and involving countries in which this animal is in natural relation. Apparently several countries are interested including Seychelles, Comoros, Mauritius, ... Final list to be defined. More details to follow. The official French postal web site says simply "Indian Ocean" countries.

Eric Contesse (France) provided more details for other issues: A new France - China joint issue is scheduled in 2014, and normally in 2015 we should expect joint issues involving France and Belgium as well as France and Mauritius.
---
September 8, 2013
Singapore will issue on September 12, 2013, together with Vietnam, a joint issue (40th anniversary of diplomatic relationship) in form of two stamps and a miniature sheet including these two stamps and representing wild fowls and peacoks. Vietnam stamps have not been seen so far but they are expected to be similar (information provided by Grzegorz Omelanczuk, Poland).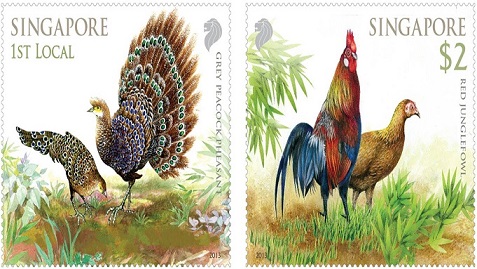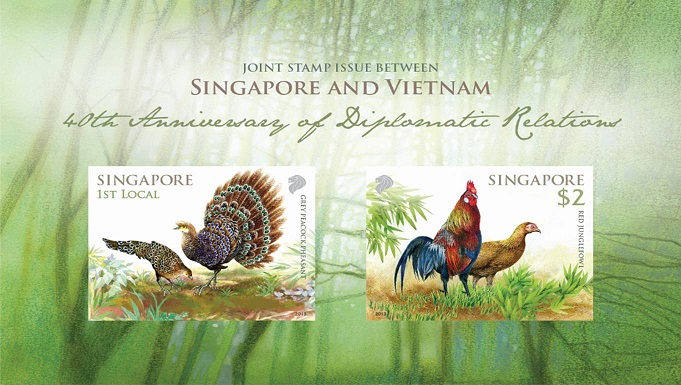 ---
September 8, 2013
Grzegorz Omelanczuk (Poland) could provide the first image of the Nordafar Faeroe souvenir sheet to be issued jointly with Greenland. The date of issue is scheduled for September 20, 2013 while Greenland still announces September 23, 2013. Greenland stamps have not been seen so far, but as both postal administrations give Martin Mörck as the engraver, it is of highest probability that the stamps will have the same design.
Faeroe introduced also a novelty: "AR-code on Faroese Stamps: The Nordafar mini-sheet has a very special feature that has never been seen before on stamps issued by the Faroe Islands. Concealed on the stamp in the middle of the mini-sheet is a so-called AR-code. AR stands for Augmented Reality. If you scan the stamp with your smartphone or tablet, the AR-code will be activated and you'll see a film about Nordafar on the device. This is a short film describing the time when activity on Nordafar was at its highest and what Nordafar is like nowadays. You need to download a free app to activate the AR code. The app is called Sepac Stamps".

The pictures of the Curacao - Malta joint issue from August 20, 2013 (the date of issue is confirmed being identical) became also available on the Curacao philatelic web site. The designs of the miniature sheets are different.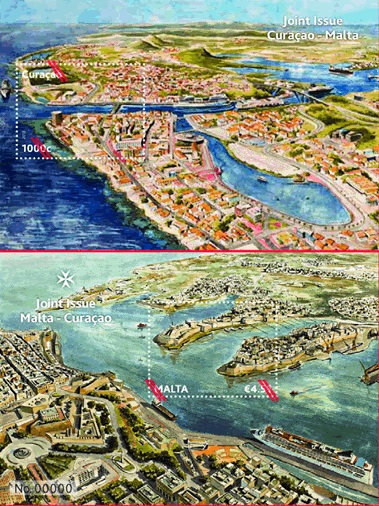 The images of the Australia and Germany joint issue in honor of Ludwig Leichhardt and to be released by October 10, 2013 by Germany and October 15, 2013 by Australia became also available on the Australian philatelic postal web site. Each country will release a single stamp but with an identical design (information provided by Michael Lantz - USA).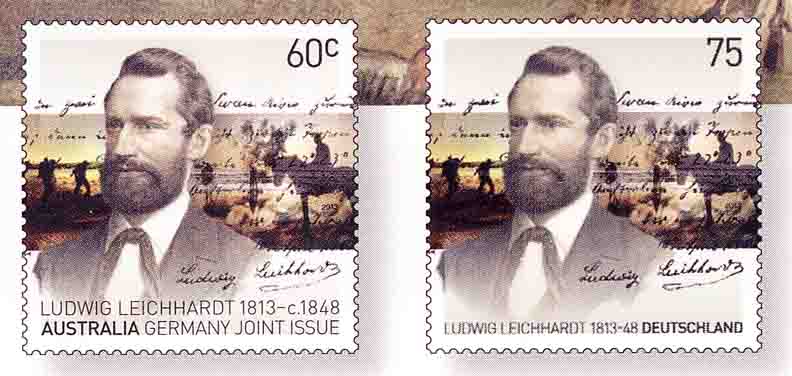 ---
August 10, 2013
Grzegorz Omelanczuk (Poland) could provide the first image of the chinese stamp from the China - Sweden joint issue to be released on August 22, 2013. One of the stamp shows the Swedish tennis table legend Jan-Ove Waldner.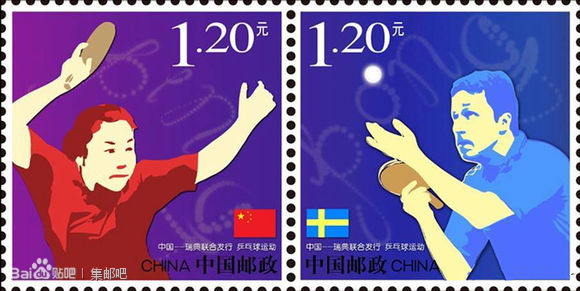 The first images of the South Korea stamps to be released on September 17, 2013, with Indonesia, is also available.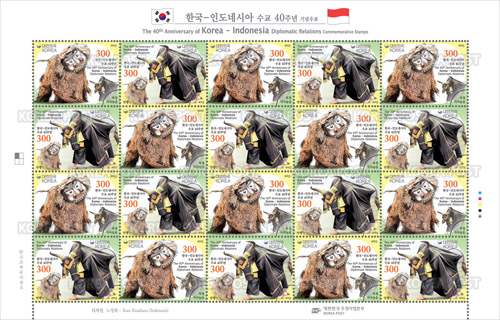 ---
August 10, 2013
The Arab Postal Day series from 2012 was completed with a stamp from Yemen, issued on January 22, 2013. The original series was issued by most of the 11 other countries on August 3, 2012. This information was provided by Kenneth Sequeira (Yemen).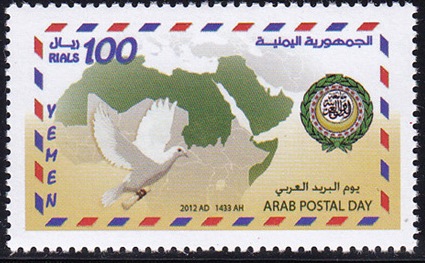 ---
August 10, 2013
An unexpected joint issue between Curaçao and Malta has been discovered by Kenneth Sequeira (Dubai) with topic "harbours" to be released on August 13 (Curaçao) or 20 (Malta), 2013. By the way, Malta has now a philatelic web site.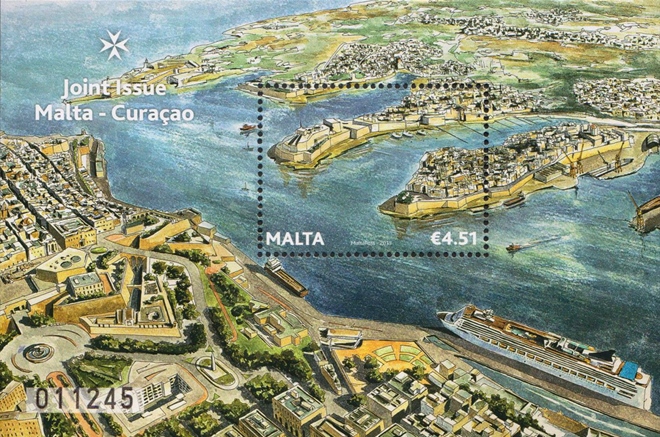 ---
July 27, 2013
Grzegorz Omelanczuk (Poland) and Danko Nirka (Slovakia) provided the first images from new stamps to come in the next weeks:
The Russian stamp related to the ferry link with the Aland islands, will be released on August 5, 2013 in a sheet of 12 stamps. We can expect a special folder as well, containing single stamps of both countries together with FDCs. The two ferries represented on the stamps are different. Aland has represented the ferry M/S Princess Anastasia that makes the regular link between Aland and St Petersburg. Russia has chosen to depict a 'neutral' ferry without any indication of the ship, the company or even the line, in order to avoid making advertisement for the ferry-link company St-Peter Line. Any indication about the ship that is represented on the Russian stamp is welcome (it may be possible that this ship is a non-existing ship, modified from a combination of different eisting ferries).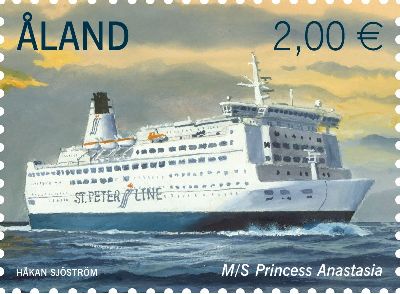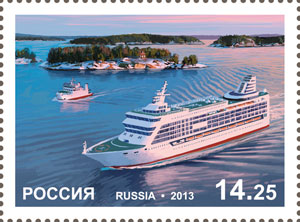 Mixed FDCs in forms of maxi-cards are available, but only 1,000 are available.
Liechtenstein published the first pictures of the stamps to be issued on September 2, 2013 with Russia. Two stamps are showing paintings from Ivan Mjassojedov (1881-1953), an Ukrainian originating painter who spent his life, in Saint Petersbourg, and then, after multiple short stays in different European towns, from 1938 on, in Liechtenstein, under the artist name Eugen Zotov.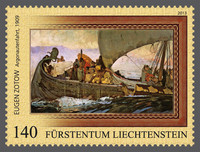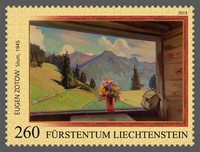 The Russian stamps have the same design and the same presentation. Stamps were issued on September 2, 2013.
---
July 27, 2013
I get quite often the question about the joint issue status of the RCC stamps. The Regional Commonwealth in the field of Communications (RCC) was set up on December 17, 1991 in Moscow by the Heads of Communications Administrations (CA) of independent states (CIS). Each partner country (Azerbaijan, Belarus, Kazakhstan, Kyrgyzstan, Moldova, Russia, Tadjikistan and Ukraine) issues yearly a stamp showing the logo of the RCC. The topic is common: in 2012 this topic was traditional costumes, in 2013 it is national communications and in 2014 it will be winter sports (in relation with the olympic games).
Unfortunately these stamps are issues without any common design and at completely unrelated dates. In 2012 the 8 countries issued their stamps over the period January 23 and December 28, at dates corresponding to 6 different months. As a consequence, these stamps cannot be considered as joint issues.
RCC stamps are quite similar to Europa CEPT stamps that are not anymore recognized as joint issues since the dates and designs became also different. Earlier Europa stamps were considered as joint, and some of them were even Twin issues. We keep reporting Europa stamps, still filed as [N] non-accepted issues, just because among the dozen of participating countries there are always a few of them that continue to issue their stamps around May 9 of a year, which is the official anniversary of the EC.
---
July 21, 2013
Enzo Cafaro (Italy) could provide a cover bearing both stamps from Malta (actually the stamp taken out from the souvenir sheet) and Italy issued on February 23, 2013. Initially we had excluded these stamps from the joint issues, as there was absolutely no claim from any of the postal administration about some link or relationship. Eventually we have to consider these stamps as real twins.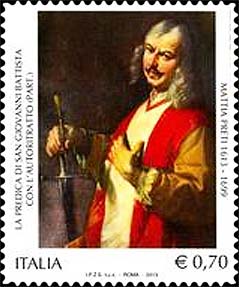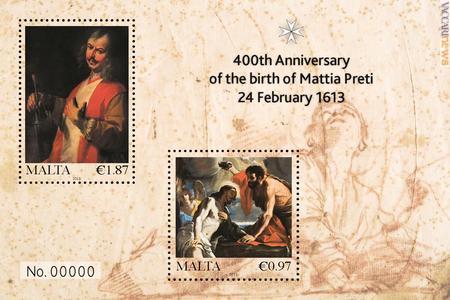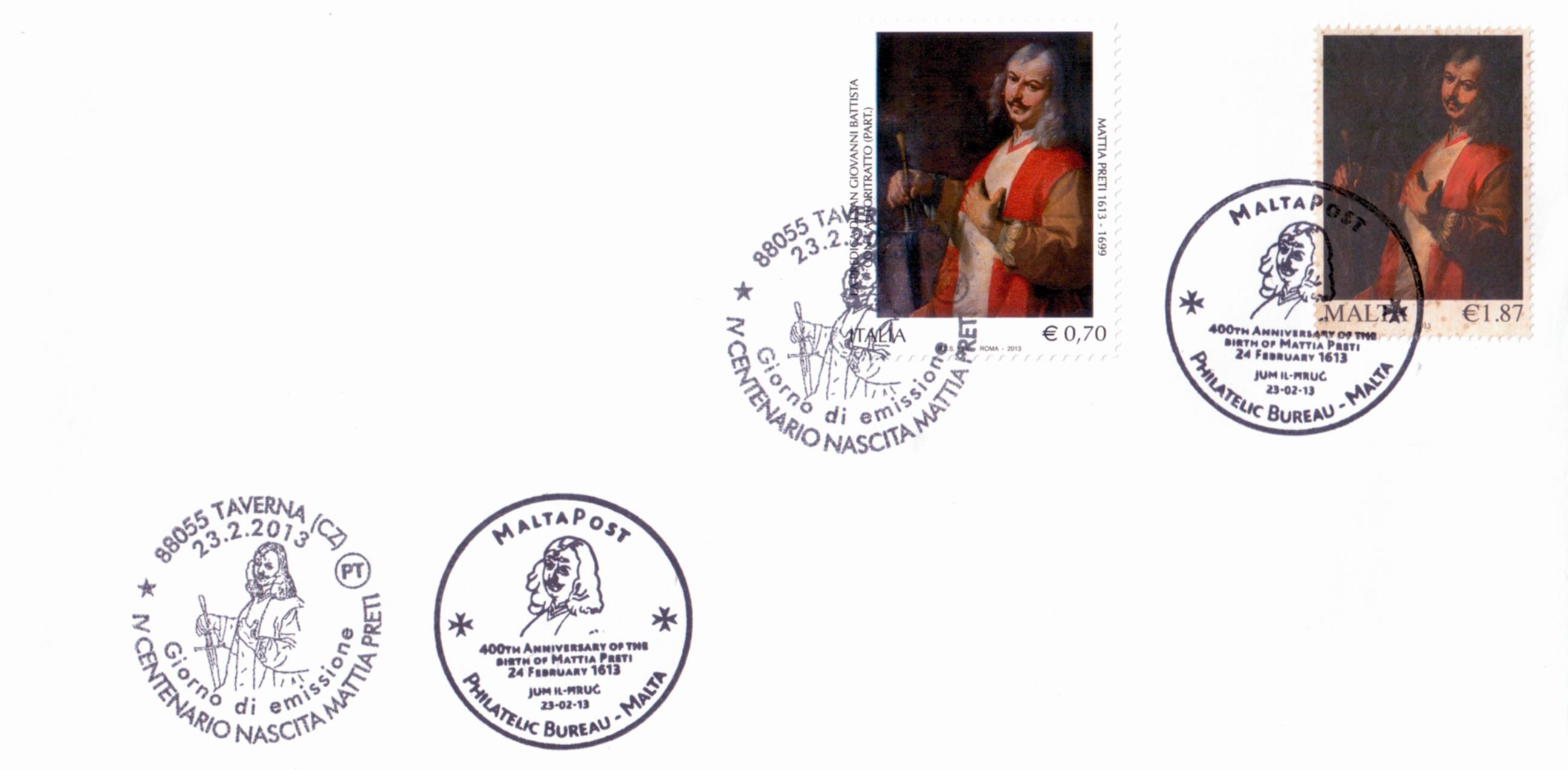 ---
July 21, 2013
Fabio Bonacina (Italy) signals the issue, on July 8, 2013, of a souvenir sheet in Romania celebrating "Culture and spirituality – Liaison for a sustainable partnership, Romania and the Russian Federation – 10 years since the signing of the Treaty on Friendly Relations and Cooperation". Apparently this stamp corresponds to an unilateral issue. Does anyone have some information from the Russian side?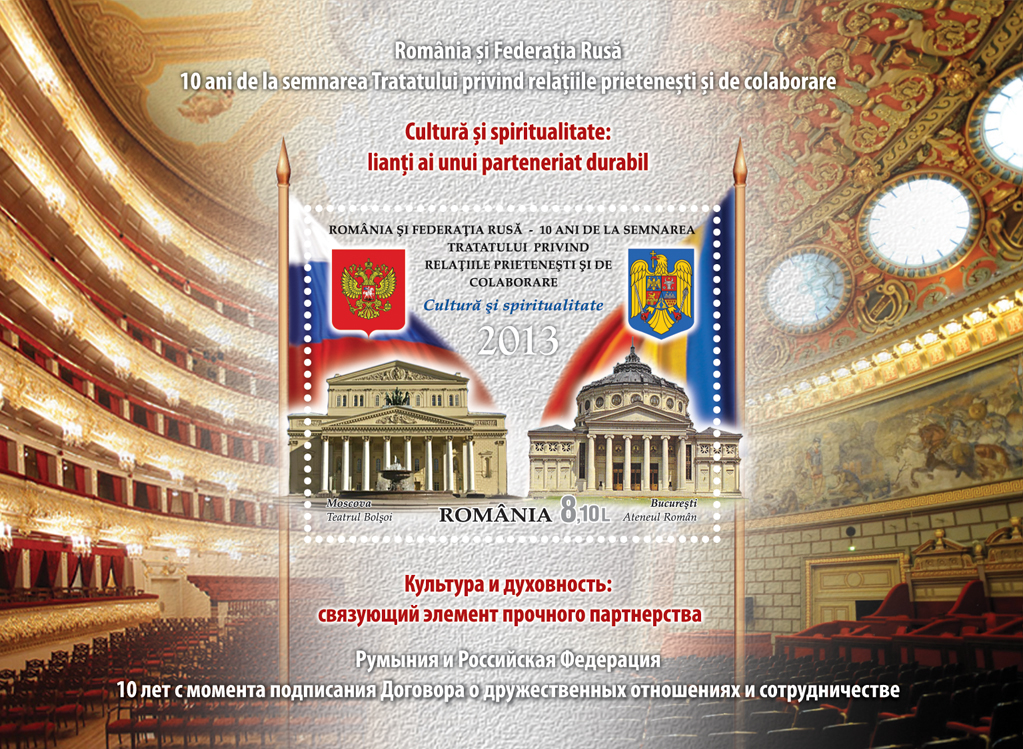 ---
July 21, 2013
Following the issue of the most recent "Breast cancer stamp" by Slovakia, Danko Nirka (Slovakia) found and provided images of stamps from the same series that have not been reported yet. Apparently El Salvador issued a stamp on February 2, 2009, but next to the advertisement page, nothing was found on the 2009 El Salvador stamp program.
On the web, Danko found also three pictures of stamps that are under development but apparently not yet released, from respectively Brazil Greece and Israel: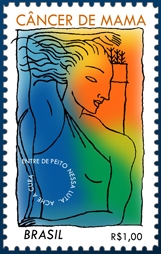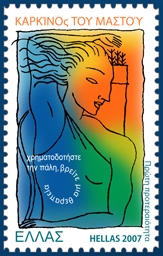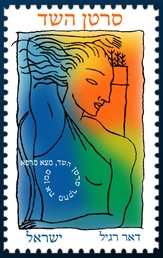 Any information about dates of issue is welcome.
---
July 21, 2013
The Belarus stamps from the joint issue Belarus Russia Ukraine to be issued on July 28, 2013 and commemorating the 1025th anniversary of the Christening of the Kievian Rus, will be different from the Russian stamp (Grzegorz Omelanczuc - Poland). The Ukrainian stamp takes the same painting as the Russian stamp (Danko Nirka - Slovakia).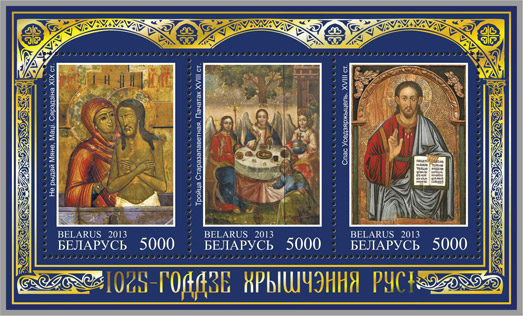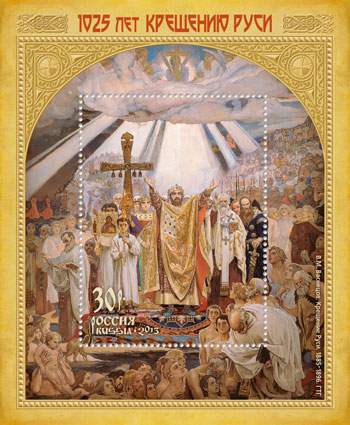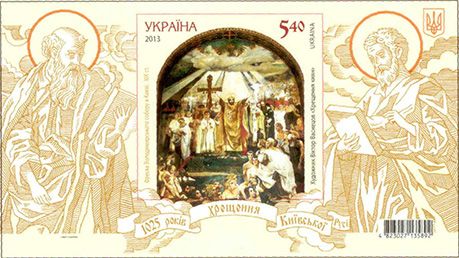 ---
July 21, 2013
The German Post issued on June 6, 2013 a postal stationery with the imprint of the joint stamps France Germany issued on January 2, 2013. Roland Montagne (France) provided a copy of a circulated document.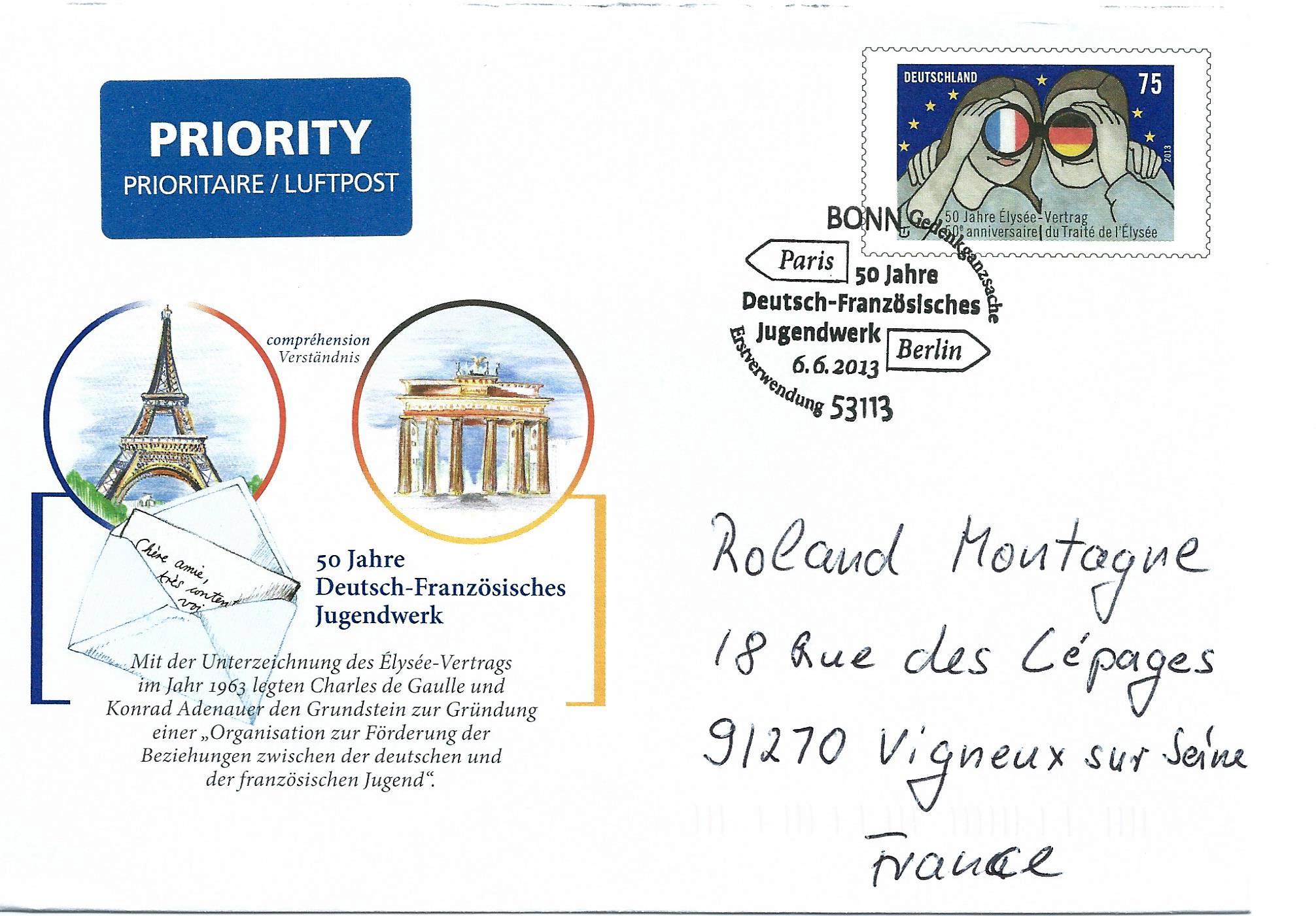 ---
July 21, 2013
Eric Chan (Hong Kong) provided a very interesting information about the Guyana Suriname joint issue from October 31, 1998: a stamp from Guyana recently came up from a New York dealer, Steven Zirinsky. The dealer said that the original stamp was never issued to his knowledge. In fact the Guyana stamps are reported (and quoted) in the Michel catalogue, which even provides a (very bad quality) image. In reality those stamps have never been seen. Guyana issued originally two stamps (20$ and 30$) and the 30$ overprinted 20$ appeared recently. Suriname stamps are easy to find but very expensive. Any further information is welcome.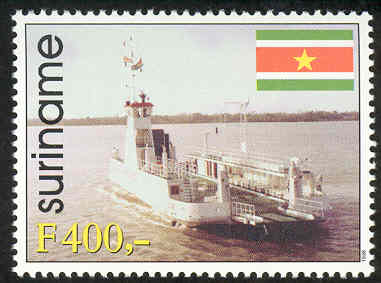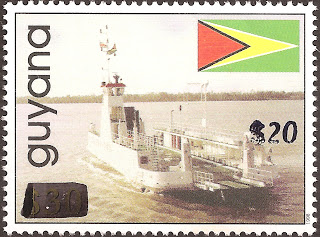 ---
July 21, 2013
Mike Lantz (USA) found some interesting information about the potential Dominican-Ecuador issue. On April 23, 2013, the Dominican Republic released a special envelope with a post mark commemorating the Book Fair. The stamp that was used was issued on March 1, 2012 and commemorates the 125th anniversary of consular relationship between the two countries. At that time, this stamp was unilateral. Grzegorz Omelanczuk (Poland) signals the issue on July 3, 2013 of an unilateral stamp celebrating 150 (some sites say 75??) years of collaboration between Ecuador and the Dominican Republic, but without any reference to the book fair.
In other words, we are still missing the complete story and if it stays like it is, this issue will have to be considered as cancelled. However as it can take almost one year until we get information from such countries, we will still remain a little bit patient.
---
July 1, 2013
The News from the period April to June 2013 have been archived.
---
All previous information reported in this section is to be found in the News Archives.