New Issues 2003 (May - August)
This page collects only issues released during the year 2003, period May to August.
As it is not such obvious as it looks to find this information, this list is probably not yet complete. In certain countries, joint issues are often announced on the day of the issue and sometimes it takes months before this information and the corresponding stamps reach us. Data on missing issues or supplementary information, particularly for countries, which are producing joint issues exceptionally, will be highly appreciated.
Most recent update of this section on November 23 , 2003.
2003 (3 May)
France - Slovakia
General Milan Rastislav Stefanik (1880-1919). Twin issue [T1].
Identical stamps. Portrait. Multi-colored.
1 stamp per country - minisheets - FDCs - mixed FDC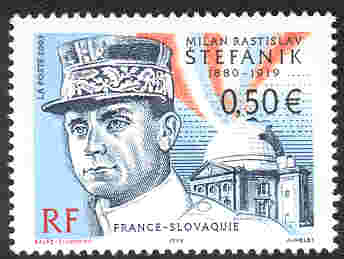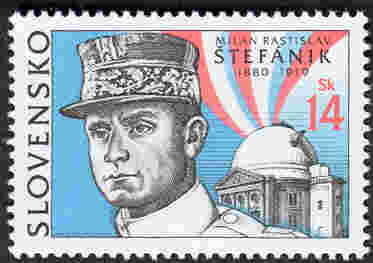 2003 (10 May)
Belgium (10 May) - Russia (15 May)
150th anniversary of relationship. 300th anniversary of St Pertersburg. Carillon and bells. Twin issue [T1].
Identical pair of se-tenant stamps. Carillon in the Saint Petrus and Paulus cathedral in Saint Petersburg; Carillon in the Saint Rombout's cathedral in Mechelen. Multi-coloured.
2 stamps se-tenant - mini-sheets - FDCs - mixed FDC


2003 (3 June)
Dutch Antilles (3 June) - Netherland () - Surinam (3 June)
300 years Johan Eschede Printing House. Territorial parallel issue [PT].
Similar stamps. Antilles: printed older bank bill and stamp; Surinam: portrait of Johan Eschede, bill and stamp. Multi-colored.
4 stamps per country - FDCs
2003 (12 June)
Austria - Germany
100th anniversary of the Salzbach Bridge (Obendorf - Laufen). Twin issue [T1].
Identical stamps. Bridge. German stamps are available as normal stamps in 10 stamp sheets as well as in self-adhesive stamps in 2x10 stamp sheets. Multi-colored.
1 stamp - mini-sheets - Numisbrief - postal stationery - FDCs - mixed FDC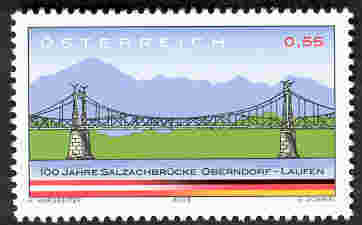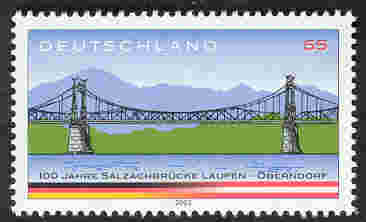 2003 (13 June)
Croatia - Hungary
Saint Ladislav's robe. Parallel issue [P1].
Both countries issued each a different souvenir sheet. Croatia: the complete robe on the stamp and details of the cross and the figures on the sheet; Hungary: details of the figures on the robe and interior of the Zagreb cathedral. Saint Ladislav (1045-1095) was King of Hungary. Multi-colored.
1 souvenir sheet - FDCs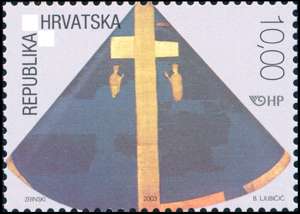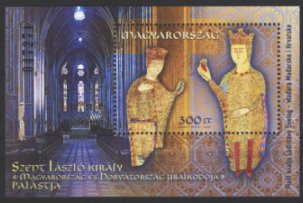 2003 (20 June)
Switzerland (6 March) - United Nations (Geneva) (20 June)
International year of freshwaters. Delayed issue [D].
Two different stamps issued at different dates but affixed on a same common cover on the first day of issue of the United Nations stamp, with a common unique cancellation (Names of both countries on the same cancellation). Swiss stamp: martin pecheur, water; United Nations: symbol. Multi-colored.
1 stamp - FDCs - mixed FDC (unique cancellation)
2003 (22 June)
Bosnia Herzegovina (Sarajevo) - Croatian Republic of Herzeg-Bosna - Serbian Republic of Bosnia Herzegovina (Srpska)
Visit of Pope John Paul II and canonization of Ivan Merz. Twin issue [T1].
One stamp per country, differentiated only by the Post logo at the bottom left. Portrait of John Paul II (1920-); 8 stamps around a central vignette showing the portrait of Ivan Merz (1896-1928). Multi-colored.
1 stamp - FDCs - second stamp issued by the Serbian Republic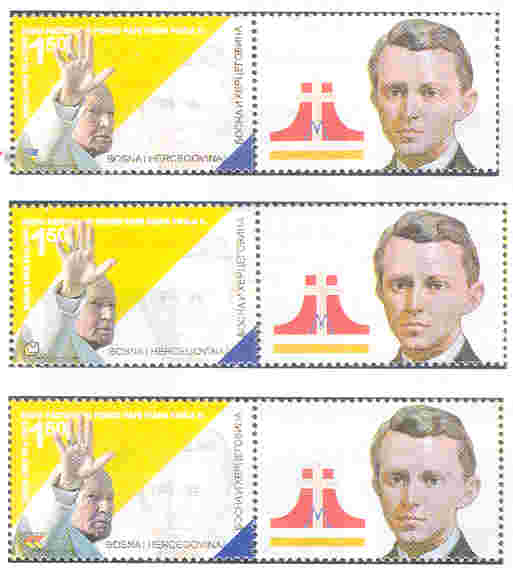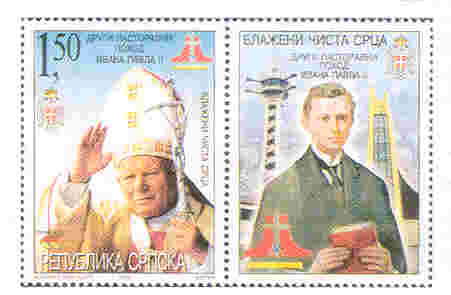 2003 (1 July)
Chile - Spain
150th anniversary of the first Chilean stamp. Twin issue [T3].
Stamps are different but show the first Chilean stamp issued on July 1, 1853. Chile: 2 se-tenant stamps each one showing one of the first Chilean stamp, background, building; Spain: first Chilean stamp. Multi-colored.
1 or 2 stamps - FDCs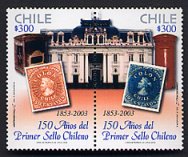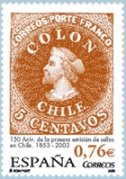 2003 (20 August)
New Caledonia - Wallis and Futuna
100th anniversary of the death of the painter Paul Gauguin. Twin issue [T1].
Identical souvenir sheets containing two stamps. Paintings of Paul Gauguin (1848-1903), A, Still life with statuette; B, studies of Tahitian portraits. Multi-colored
Souvenir sheets - no FDC